Nick is posing with a three pound bag of chanterelles that we found on our walk. Well, Nick actually was asleep at the time, but he claims that it was his quiet and good behavior that allowed mom to concentrate well enough to find so many mushrooms.
Michael Pollan
would be proud. We are starting the kid on the whole "local food" thing way early.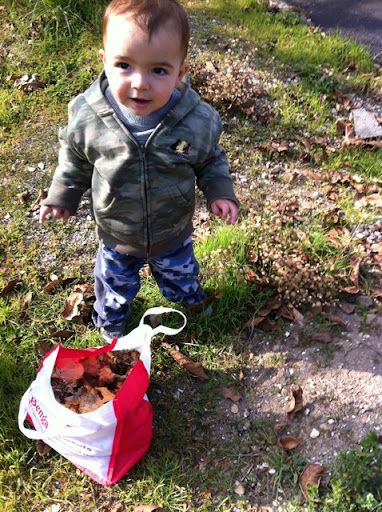 Our haul weighed in at just under three pounds. Some of those mushrooms were LARGE.
Dinner!
Very. Large. Mushroom.
Dinner preparations:
Cleaned.
Chopped.
I had to saute them in batches, since they didn't all fit into the largest
pan I had. Half went into the fridge, the other half became the night's dinner.
Taaasty! (the final shot after the addition of sour cream was not
taken, since the time between "dinner ready" and "dinner
consumed" is about a microsecond at our house when mushrooms
are involved.
Here's Marcin's version of the same, prepared from
the mushrooms we shared with him. Notice the
sour cream and the creative addition of dill.